What's happening at the Park
Carleton Norris is returning to manage the Park again in 2017. Carleton and staff are planning many activities in 2017, including the return of the Chicken Barbecue on August 5, 2017.
2017 Event Calendar
July 1 – Bean Hole Bean Supper
July 7 – Christmas in July
August 5 – Return of the Chicken BBQ
September 2 – Turkey Dinner
September 16 - Pot Luck Dinner
Follow us on Facebook for more information
We are also working to improve the trail system, add another lean-to at the beach area, and replace the roofing at the Recreation hall.
The Town of Mattawamkeag Wilderness Park Advisory Board has become very active again. We have had a public Baked Bean supper in February to support the Recreation Hall Roof project. We had an Italian Public Supper at the Mattawamkeag Municipal Hall in April in support of the Roof Project. It was a huge success with over 100 people attending. We are having a Prime Rib Supper on Saturday June 3, 2017 from 4 – 6 with a pie auction at the Mattawamkeag Municipal Hall
Why not plan a group outing at Mattawamkeag Wilderness Park. We have a large roofed BBQ facility for many activities and offer discount rates for large groups of campers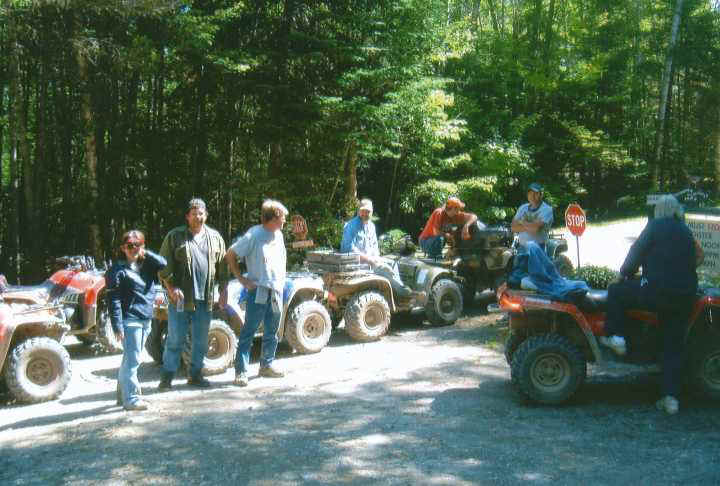 We are located adjacent to many miles of ATV club maintained trails. Check out this map from the Dwinal Pond 4 Seasons Club web site that shows all the local trails. Why not make the Park Campground base for a vacation or weekend on our local trails
We have constructed a new BBQ pavilion behind the recreation hall that will greatly improve our facilities for serving you during our BBQ weekend. This Pavilion may also be rented for all kinds of activities, including weddings, family reunions, class reunions, company bbq's and much more. For an additional fee and deposit, we have a commercial size gas grill available
June 21 - 23, 2002 we had the Penobscot Paddlers and Chowder Society annual white water rescue training. It was a very interesting experience for all who attended and for us at the Park. Check out some of the action at Upper Gordon Falls. They were with us again in 2004 on the weekend of July 9 & 10. Why not use our group rates and have your own outing or retreat.
Home Rates Slideshow Northern Maine Recreation Area Attractions
Directions How to contact us Campground Map Trail Map Local Weather